Scorpius serial number 02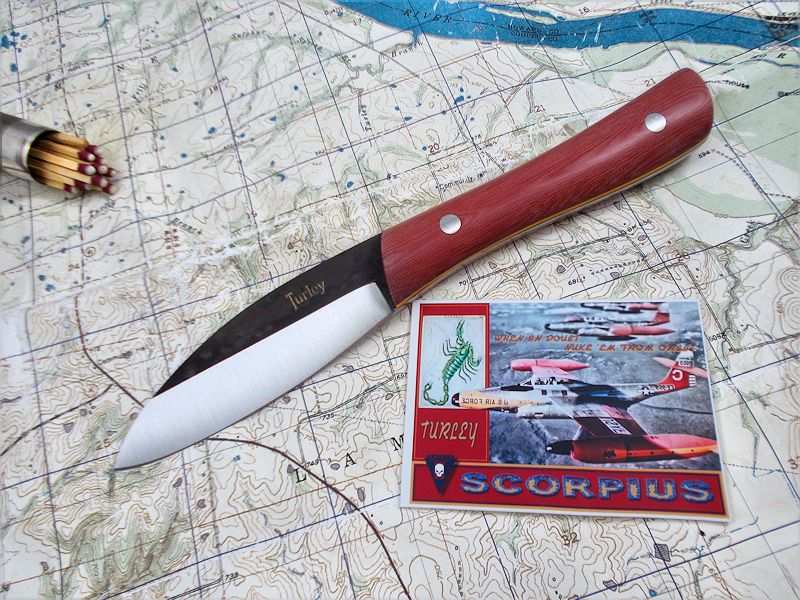 Scorpius serial number 02
Scorpius serial number 02 (stamped on the off side of the blade).
The Scorpius design is inspired by the Lockheed Constellation air frame. The Connie was a graceful and elegant design that is now iconic in American aviation culture. Turns out that the lines of the aircraft make a really comfortable knife. The aircraft pictured on the Protect-o-Plate is an F89 Scorpion, the first nuclear equipped fighter aircraft.
Here's the options on this one:
Scorpius
5/32" 0-1 tool steel
varied height grind (flat/convex with secondary edge)
red linen micarta scales
thin yellow and orange spacers
stainless bolts
Handle length is about 4 3/4"
Blade length is about 3 7/8"
Comes with a Turley Protect-o-plate, numbers matching the blade.
No sheath.
Number 1 warranty on handle, Number 1 warranty on blade. (see catalog for warranty descriptions)
Insured, Priority shipping in the US or to an APO is INCLUDED IN THE PRICE
Shipping outside the US is available. Once you click the "buy" button you will be charged a flat rate of $45.00. I will get an email with your address after you pay. (if it doesn't let you proceed just send me an email)
I will email you back with an invoice for the remainder of the shipping rate. You can decline if it's too expensive and I will
put the item back up for sale and refund your money. Please know that shipping anywhere outside of
North America is expensive. You can figure a minimum of $50.00 and a maximum of over $100.00.
If the item is shipped to the state of Missouri then 7.975% sales tax will be added after check out.
I will invoice you the tax amount shortly after you purchase the item. Politicians need more of our money to waste I reckon.
I use no jigs or helpers. My knives are not perfect by any means, if you're looking for
perfection then I urge you to choose another maker. I don't want to run business
away but I also want you to get what you expect. You must be 18 years of age or older to buy from Turley Knives.
By buying, you certify that the product in question is legal to ship to your address. No returns accepted for anything
obvious in the pictures and/0r noted in the information of the sale.
Thanks for looking!
sold out